Electrode Name Printing Machine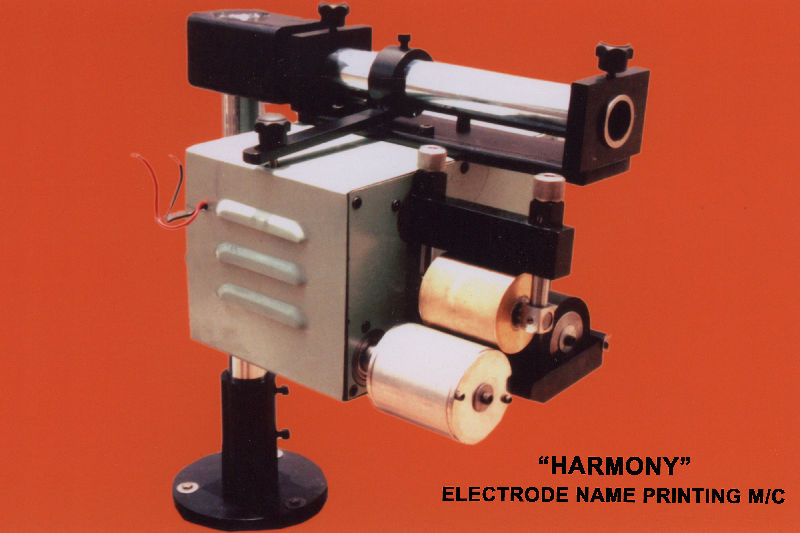 Business Type
Manufacturer, Exporter, Supplier
Print Area
65 mm (max)
Horizontally Printing Speed Variable from
1200 to 2000 Electrode per Minute
Dia of Stereo Roller
90 mm Dia of Ink Roller 85 mm Dia of Ink Take-off Roller 65 mm
Click to view more
Product Details
Capacity of Ink Tray
200 Ml
Height Adjustment of Machine
50 mm
Minor Adjustment of Print Roller
5 mm
Weight of Machine & Control Panel
80 Kgs
Approx. Dimensions Machine
Length 450 MM x Width 400mm Height 220 mm (Approx.)
The Printing Unit designed for fine printing of  Brand Name, Make , Type, Dimension etc. on the Coating of every electrode. The Unit is well equipped with AC Motor 0.5 HP (0.37 Kw), Gear Box, Control Panel  with AC Drive Variable speed.
The Print Assembly :
Print Roller : The Print Roller is size of 85mm (Dia) and 90mm (L) Surrounded with Nylon Stereo, Print Name etc. on the surface of electrode. The Stereo is easily exchangeable on the roller for different brands.
Ink Roller : The Ink Roller made of Rubber picks up ink from Tray and spread uniformly so that continuous inking process available for print roller.
Ink Transfer Roller : Brass Roller assembly fitted in centre to transfer ink from Ink Roller to Print Roller in controlled manner, so that a fine layer of ink spread on the printing stereo for sharp and clear printing on the electrode.
Ink Tray : The printing Ink shall be filled in the tray for continuous printing.
Nylon Stereo : The engraved Nylon Stereo shall be fixed on the Print Roller by double side adhesive cotton Tape.
Print System : 
a. On- Line Printing  : The Printing machine is mounted on the Slow Conveyer  (Collection  Conveyer)  for on-line printing.
b. Off-Line Printing : The machine can be mounted on Off-Line printing Station for printing electrode after baking.
Looking for "
Electrode Name Printing Machine

" ?